Ruth Bader Ginsburg has suggested that some Supreme Court decisions - notably Roe v. Wade - have been too swweping, too far ahead of public opinion: "The court can put its stamp of approval on the side of change and let that change develop in the political process."
Later, she said that the Supreme Court would not duck the same-sex marriage issue next time it came up. But this week, they did exactly that.

Here's the  problem:
Justice cannot be based on majority opinion.
If we merely allow majority rule, we have no need for judicial review: the majority has spoken. But the framers of the US constitution were aware of a fundamental ethical principal: that the rights of the minority should not be only at the pleasure of the majority.
For the visually oriented, cartoonist Randall Munroe has offered us a graphic that helps us to understand this in terms of access to marriage: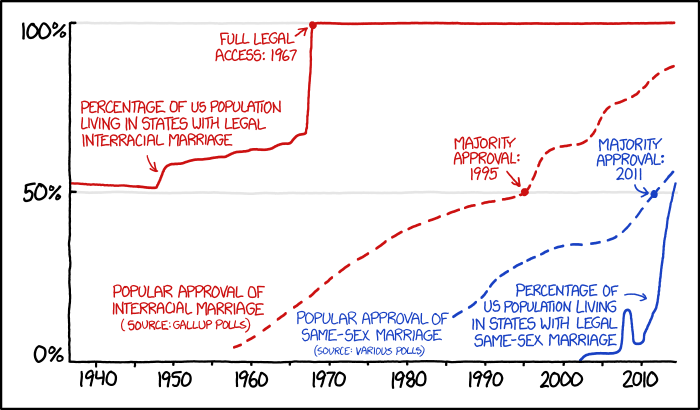 Notice that over half the states had legal inter-racial marriage even back in the 1950's. This shows that even legislators recognized the justice issues as being more important than the popular opinion. When the court made its decision in 1967, fewer than one in four Americans approved  In fact, more than a quarter of a century would pass before even half of Americans were in favor of inter-racial marriage.
But we have fallen so in love with polls that we forget that some things should simply not be decided by popularity contests. Even with polling that shows more than fifty percent approval, legislatures are reticent to do what is just. So the courts have been called in to do what's right and, at least at the appelate, circuit court level, they have.
The Supreme Court, on the other hand, is letting the circuit courts take the heat.
Why are we so afraid of standing up for what is right? Why do we not stand up for the rights of those profiled by race or religion or sexuality? Why do we not defend workers' rights  to a living wage?
Do we not care enough? Or do we fear being treated like those who we would be defending?
It's scary to stand up for justice when one is part of a small minority of voices. But it's far more scary to be that minority subject to injustices on a daily basis.
What is just does depend on how many people like it. We ought to stand for what is just, no matter how many stand in opposition.